Supply Chain Management Software
Flow is the leading supply chain management software for the infrastructure materials industry. With an intuitive user experience, comprehensive features, and flexible technology, Flow is an incredibly powerful solution for the entire supply operation. Producers conduct frictionless commerce by integrating customers and logistics partners, while simplifying internal quote-to-cash processes.
Site & Inventory Management
Producers manage critical information for all sites within their supply chain, including quarries, vendors, plants, dispatch, and job sites. Depending on a specific site's operations, producers can also track inventory, product availability, operating costs, trucking providers, and site operating hours.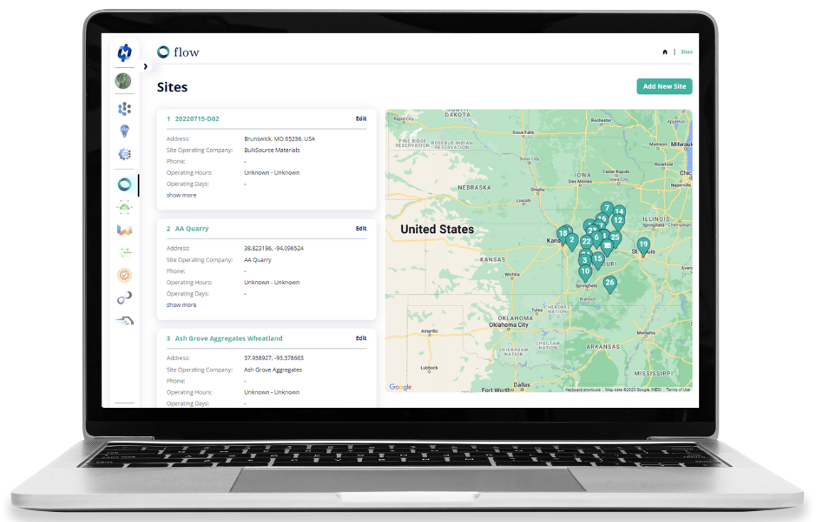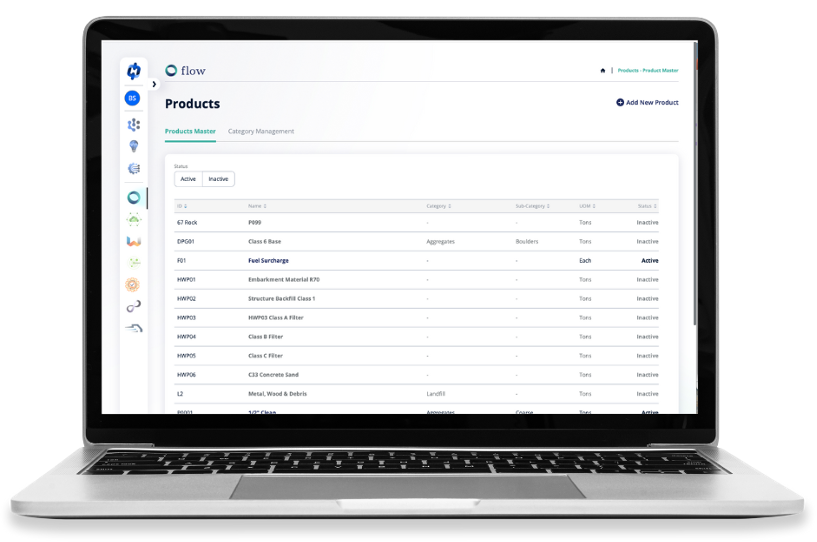 Product & Price List Management
Producers manage all their material products, and the associated product categories and sub-categories across all sites. This ensures data integrity throughout the operation, and accurate reporting of inventory, quoted volume, fulfillment, and more. Accounting teams can create and modify unlimited price lists for customers or groups.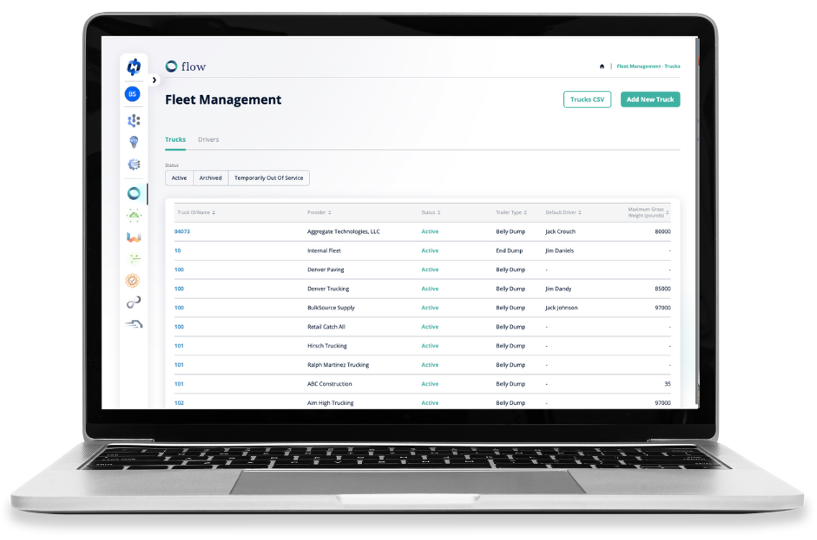 Fleet Management
Flow allows producers to manage their internal and 3rd-party haulers, both at the company and driver levels. Scale house operators and dispatchers maintain key specifications such as maximum gross weight, permit dates, CDL expiration dates, and much more. These specifications drive a number of compliance and safety related features throughout the platform.
Freight Pricing & Fuel Surcharges
Flow's proprietary freight pricing algorithm provides sales staff and dispatchers a reliable tool to price and quote freight rates. Users have the flexibility to price routes per hour, ton, or ton-mile. Producers' permissible users maintain the fuel surcharge rules and then the applicable fuel surcharges are incorporated into customer orders and tickets.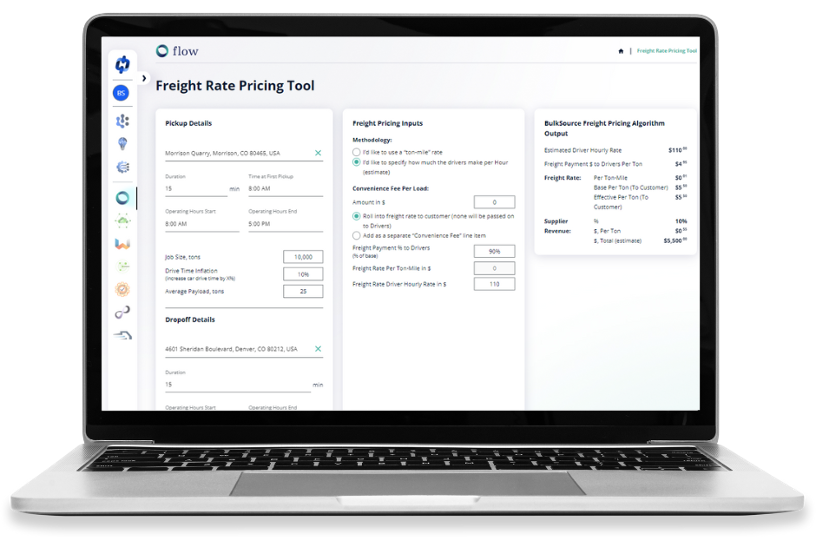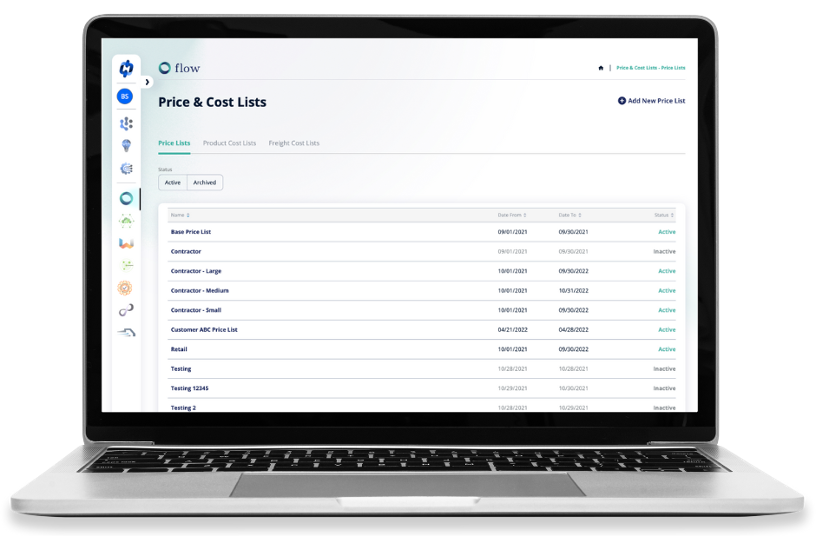 Sales Tax
Producers' accounting and finance teams use Flow to manage all applicable tax rates and jurisdictions, which are incorporated into any customer order. Different tax rates can be applied for deliveries or FOB pickups. Accounting and sales can also manage customers' tax exempt statuses.
Quotes & Sales Orders
Sales teams easily view and edit CRM data, inventory, and pricing. They quickly create quotes from the field or office, and convert quotes to sales orders when terms are agreed upon. Customers view quotes and orders in their customer portal, and internal teams - such as accounting and operations - have real-time visibility into orders by product and site.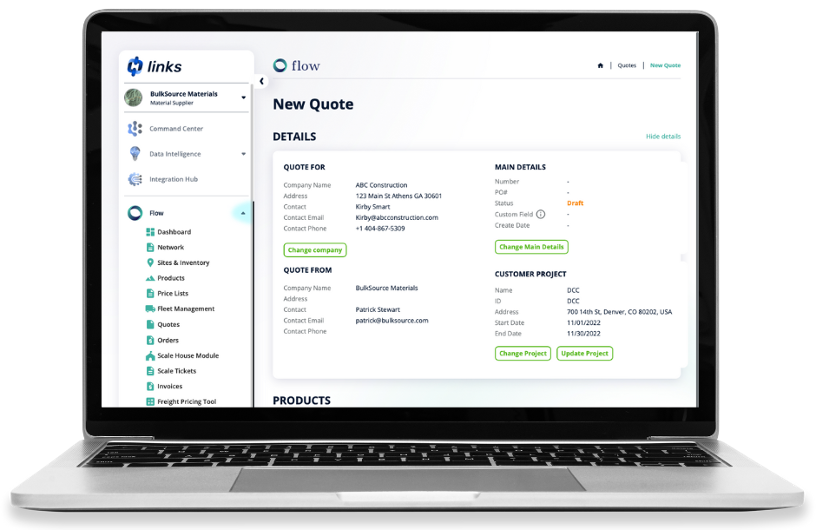 Scale House Operations
Flow was developed with operators in mind, enabling scale house operators to create tickets in under 15 seconds while adhering to compliance standards for manned and unmanned scale houses. Flow connects with any scale and operates with either internet or cellular signals. If a site loses internet connectivity, Flow captures tickets offline and automatically updates the cloud once connectivity is restored.
e-Ticketing & Scale Ticket Reports
Flow's e-ticketing allows producers, haulers, and customers to access scale ticket reports via desktop, tablet, or mobile device. Tickets are downloaded and/or printed as needed. E-ticket data is utilized in multiple production KPI reports and dashboards such as time on site, loads shipped per day, payload, and more.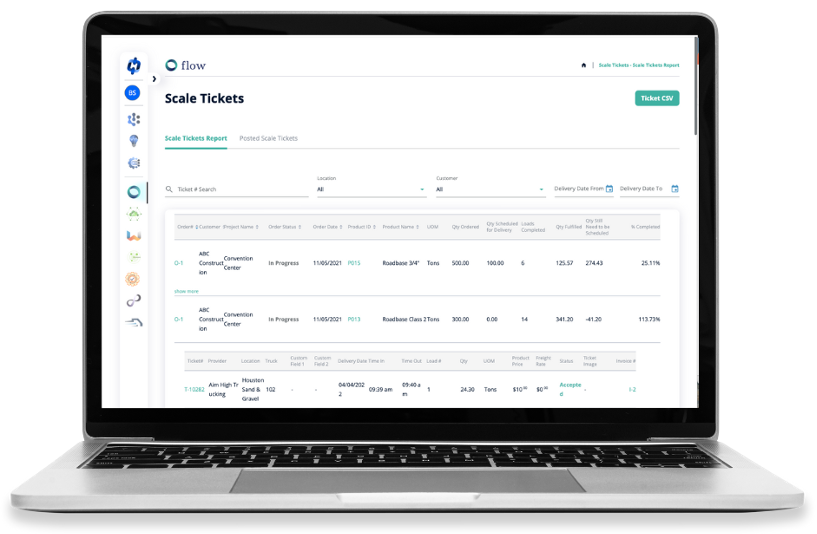 Invoicing
The invoice creation wizard customizes and automates the invoice process for each customer. Flow can integrate with accounting and ERP systems, automating data transmission, and therefore eliminating unnecessary manual data entry. Customers view and download invoices from their customer portal, and then directly pay invoices with a credit card, debit card, or ACH via Flow Digital Payments.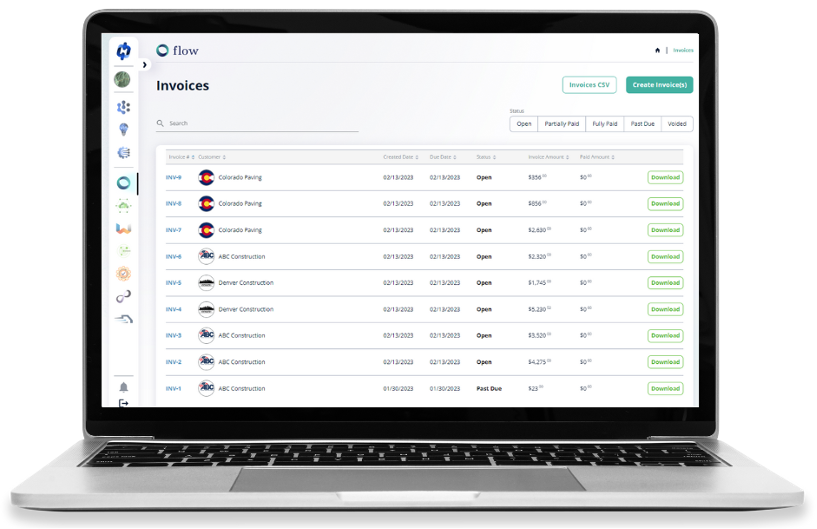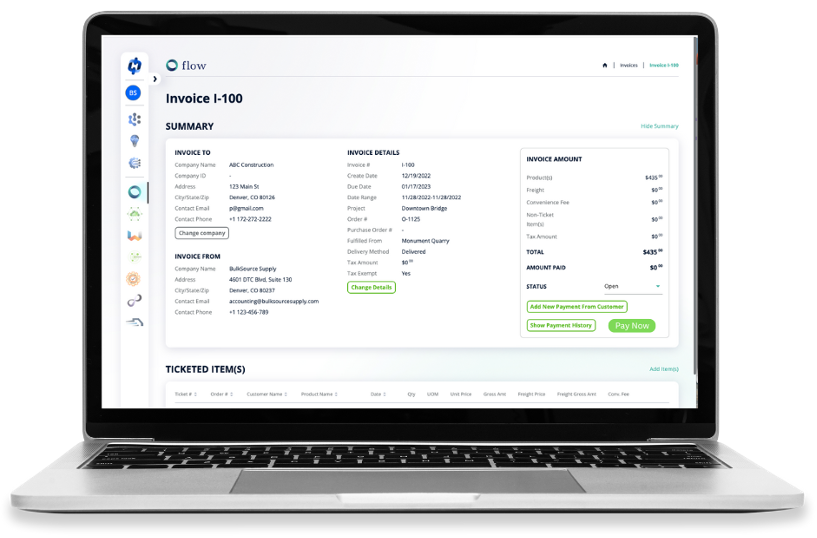 Digital Payments
Flow is a Payment Facilitator (PayFac), enabling producers to transact digitally, drastically relieving the conventional strains on working capital. Flow Digital Payments provides producers an added revenue stream while also improving their customers' procurement experience. Producers receive payments faster by providing an easier way to create, review, and pay invoices.
"Flow has really been a force multiplier. It streamlines our daily operations and eliminates the need for manual integrations between multiple systems. Above all, our customers have expressed their gratitude for improving their experiences."