Increase productivity. Enhance safety. Manage risk.™
WeatherBuild, BulkSource's weather intelligence tool, offers hyper-local weather decision support solutions that empower contractors, owners, and operators to improve situational awareness and make better-informed decisions about weather events, schedule impacts, safety risks, and probable outcomes. Our mission is to leverage weather data, machine learning, and predictive analytics to increase productivity, enhance safety and manage risk.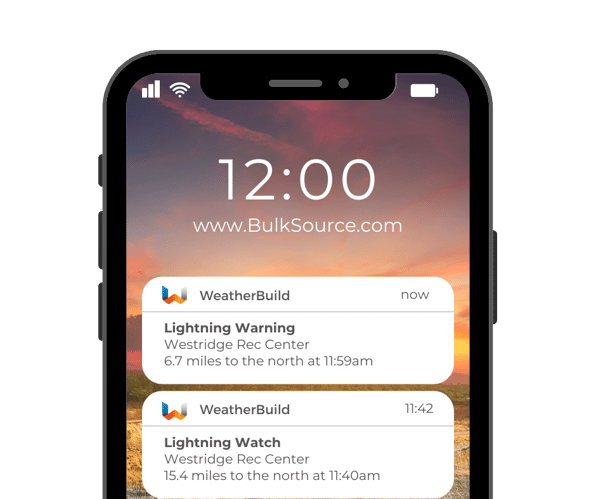 WeatherBuild Features:
Activities and impacts customizable based on your project-specific requirements

Integration with your schedule to enable weather risk probability for each activity

Can be used as a stand-alone software solution and/or easily integrated with Trimble CrewSight, Oracle Primavera P6, and many other systems

Historical reports of actual weather data with event and impact analysis

Integration with weather stations and data loggers of actual outcomes

UNLIMITED USERS

UNLIMITED REPORTS & ALERTS

UNLIMITED WEATHER ANALYTICS
Lightning Communications
Communication of the weather events is critical to all stakeholders, which is why WeatherBuild leverages email, text, and slack to ensure everyone is on the same page. WeatherBuild can monitor specific areas and provide automated communications letting crews and partners know when dangerous events like Lightning are occurring within a designated radius. Once the threat has left the area, WeatherBuild will notify the affected parties that the "All Clear" has been given and it is safe to return to the location. WeatherBuild eliminates the need for multiple generic, error-prone weather apps.
High Wind Communications
When cranes are being used on job sites, it is critical to ensure that its is being operated in safe conditions. With various wind measurements, customers can take advantage of the industry's leading weather intelligence technology. Unlike the generic reports from the commonly used weather apps, these are specific to the exact project location. WeatherBuild provides forecasts for wind speed and wind gusts at ground level, 50 meters above ground, and 100 meters above ground. Track adverse weather conditions and predict when unsafe conditions will disrupt operations and endanger people and equipment.
Project Schedule Integrations
WeatherBuild allows for job-specific safety guidelines that ensure projects are kept on schedule and prevent crews from going to jobs impacted by weather. Make proactive decisions that could reduce 40% of schedule delays and cost overruns while at the same time increasing worker productivity by 30%. Integrations with our technology partners are quick and easy, and WeatherBuild has native APIs which allow for a painless implementation that does not overwhelm I.T. departments. Leverage automated decision science that uses machine learning to predict the impact of weather events, automatically update schedules and notify teams with Trimble CrewSight, Procore, Oracle Primavera P6, and other 3rd-party software that can connect via API.
Historical Records for Insurance Claims
WeatherBuild's benefits extend beyond the project completion as well. WeatherBuild enables customers to go back in the weather report logs and confirm if and when project teams experienced weather delays, on what days, and at what periods during each work shift and workday, enabling historical record-keeping and improved risk management in the future. It has also been used extensively in insurance claims and legal cases involving workers and equipment. Verify the day, location, alerts, events, and distribution list to verify or audit the weather condition that leads to a claim.