Weather Intelligence Software
Increase Productivity. Enhance Safety. Manage Risk.
WeatherBuild is a weather-enabled decision support software that empowers contractors, owners, and site operators to improve situational awareness, enabling better-informed decisions about weather events and their impacts. WeatherBuild leverages proprietary weather forecasting technology, machine learning, and predictive analytics to increase productivity, enhance safety, and manage risk.
Centralize Weather-Related Operating Decisions
Leverage proprietary weather forecast technology enabling hyper-local accuracy

Customize which types of weather events are critical to your people and operations

Incorporate your customized weather parameters with the project and operating activities

Apply corporate safety and operational best practices across the entire enterprise, avoiding the risk of decentralized oversights

Decide who, what, where, why, when, and how communications reach all your people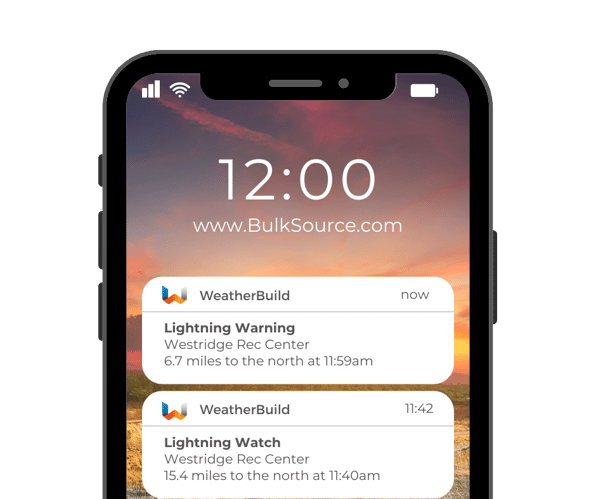 WeatherBuild Features
Customizable activities and impacts based on project-specific requirements

Integrate with schedules, enabling weather risk probability for each activity

Offered as a independent software product but also easily integrates with Trimble CrewSight, Oracle Primavera P6, and many other platforms

Use archived hyper-local weather data to analyze historical events and their impacts

Unlimited users, notifications, alerts, weather reports, and analytics
Lightning Safety Notifications
Communication of the weather events is critical to all stakeholders, which is why WeatherBuild leverages email, text, and slack to ensure everyone is in sync. WeatherBuild can monitor specific areas and provide automated communications, letting crews and partners know when dangerous events, like lightning, are expected to occur within a designated radius. Once the threat has left the area, WeatherBuild notifies the impacted parties that the "All Clear" has been given and it is safe to return to the location. WeatherBuild eliminates the need for multiple generic, error-prone weather apps.
High Wind Forecasts
High winds can devastate construction projects. Peak vulnerability is during crane operations. With multiple wind measurements, customers can take advantage of the industry's leading weather intelligence technology. Unlike the generic forecasts from the commonly used consumer weather apps, WeatherBuild forecasts are specific to the exact project location. WeatherBuild provides forecasts for wind speed and wind gusts at ground level, 50 meters above ground, and 100 meters above ground. Customers track adverse weather conditions and predict when unsafe conditions will disrupt operations and endanger people and equipment.
Project Management Software Integration
WeatherBuild allows operators to monitor and execute their standard operating procedures and job-specific safety guidelines. As a result, WeatherBuild reduces 40% of schedule delays and cost overruns while also increasing worker productivity by 30%. Leverage automated decision science that uses machine learning to predict the impact of weather events, automatically update schedules and notify teams through Trimble CrewSight, Procore, Oracle Primavera P6, and other 3rd-party software tools.
Mitigate Risk with Historical Records
WeatherBuild enables customers to capture historical data and record if and when project teams experienced weather delays, on what days, and at what periods during each work shift and workday. WeatherBuild is used extensively in insurance claims and legal cases involving workers, equipment, and project delays. Confirm the day, location, alerts, events, and distribution list to verify or audit the weather condition that leads to a claim.
"WeatherBuild helped my team implement the SOPs for weather impacts. Corporate leadership loved how my projects outperformed the field in productivity and on-site personnel engagement. They made it a best practice and mandated it for all new projects."